Thank you to all the Toad People on Indiegogo!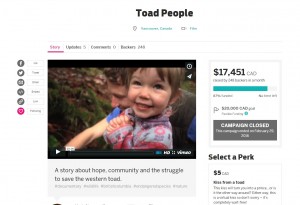 What a wild ride!
The crowdfunding campaign for our new documentary, Toad People, has now come to an end.
With the help of the 248 contributors who supported our project, we raised a whopping $17,451 to complete the film and take it on tour across British Columbia!
We are thrilled with the result – thank you to everyone who participated and helped us spread the word!
Although we fell a bit short of our financial goal, this crowdfunding campaign was a fantastic experience for the whole Toad People team. We have made great new connections, received valuable feedback and generated lots of support for the protection of western toads and other endangered species in BC.
Now that the crowdfunding campaign is over, we'll be getting right back into shooting and production so that we can complete the film. Once the film is done in late 2016, we'll be hosting screenings in communities across the province and mobilizing people to join us in calling on the BC government to enact a provincial law to safeguard species at risk.
If you'd like to get in touch with the Toad People team to help organize a screening in your community, or to help raise awareness about efforts to protect endangered species, please contact us at info@toadpeople.org
Thanks again to all the Toad People out there who have helped get us this far – from contributing funds to sharing the Toad People campaign with friends and family. Please stay tuned for more updates as we move ahead with the project!